---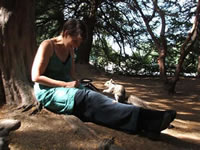 Following graduation I lectured in drawing for fourteen years, giving up this career in 1999 to work on my own paintings.
From the most complex to the simplest of my images, the inspiration comes from anything that has touched my life. It may have been an experience, something seen, read or dreamt. Some works are based on particular events in my life, where memoris hold a rich source of material, others are drawn from traditional folklore, fairytales, myths and legends to name a few.

Nature and my interaction with it plays an important part in many of my works and most of the creatures represented have been part of my life at some time or other.
Attention to detail is important so that the viewer is presented with easily recognisable objects with which to establish their interpretation. For this I use Gouache as I find these give me the fine detail and intensity of colour that I strive.